We now have our own trailer!
Easier for us to deliverd loads of materials to your event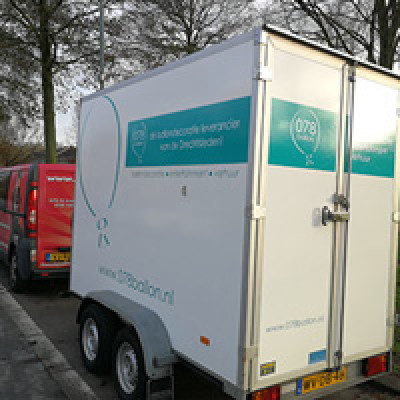 I have been driving around in a well-identifiable, stickered bus for years. Because my work takes place a lot in and around shopping centers and cities, it is important that parking garages are accessible .... the choice for a middle class bus which can acces these was therfore very well thought of.
The disadvantage of these buses is the limited load capacity. Add to that that I also regularly drive around with several people in the car and therefore have a double cabin .... loading space can easily be to small.
For 80 = 90% of all jobss, however, the loading space is sufficient .... for the other projects I solved it by renting a bus or a trailer. However, this was not always very handy: a trailer needed on Monday 7:00, while the renting company only opens at 8:00 ... means a whole weekend with a trailer that must be used on Monday 1 hour .... not very efficient ... not very cost effective.
This is one of my reasons why a trailer has been a wish for some time ... but I'm also critical ... because the trailer will probably be used mainly for balloon decorations, volume was a must: at least 3 meters long, at least 1.60 meters high. After a long search ... many deliberations .... (and missing out on a great deal a lot of times) as of today I am the owner of a nice big trailer (3x1.50x2.10 meters).
No video selected.